FILLING MACHINES
PILLOW WEIGHT SETTING VACUUM FILLING MACHINE BC1018
Model (BC1018)

Dimension(mm) (L*W*H)

Power

Air Pressure

Net Weight

Fiber Opening Mc
BC1001-790

Filling machine BC507

2150*1150*980mm

2990*1700*2050mm

6.25kw

7.5kw

---------

1Mpa

800KG

850KG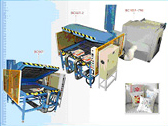 The vacuum filling machine BC507 is for the fabric pillow/cushion's filling. The suitable material is: siliconized sample fiber.

The vacuum filling machine BC507 is equipped with frequency converter, the filling speed is adjustable and the filling surface is very even.

The filling is carried out by "Suction" not the traditional filling "blow", which can make the filling materials go to all
the directions and come to 4 corners of pillow/cushion. After filling effect will be better than all the other filling.
The line can set the weight for each pillow/cushion.